6
03
2009
The Page Six cartoon – caricaturing the police shooting of a chimpanzee in Connecticut – has created considerable controversy. The cartoon shows two police officers standing over the chimp's body: "They'll have to find someone else to write the next stimulus bill," one officer says.
More recently, a photo emerged, taken from a window display at a Georgia bookstore. It shows several books featuring Barack and Michelle Obama, and then shows another book, positioned squarely in the center of the display, that features a monkey.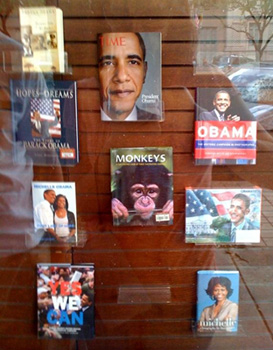 While this demonstrates the undercurrent of racism in the collective consciousness, what is less apparent is how race and racism operate predominately at the subconscious level, which in many respects, makes it more insidious, less apparent and, seemingly insolvable.
It seems insolvable because no one has addressed the real, underlying issue: cultural conditioning.

There is a tool called the Implicit Association Test or the IAT. The Race Test measures unconscious or automatic associations of "good" and "bad" with Black and White people.
Continue reading Veronica's post at Huffington Post.
Comments :
4 Comments »
Categories :
Cultural Conditioning
23
10
2008
There is much ado about race in this current election. If you have read The Black Paper then you know I describe the way that race and racism has historically operated at the subconscious level. When Barack Obama gets elected November 4, there will be a radical transformation in the psyche of Black people everywhere.
The Power of Beliefs
Before May 6, 1954 it was widely assumed that to run the distance of a mile in four minutes was impossible for a human being. In the nine years prior to the historic day in which Roger Bannister broke the four minute ceiling, no one else had ever come close.  Banister broke the four minute barrier because he knew it was possible. Within six weeks after Bannister's feat, the Australian runner John Lundy lowered the record by another second. Within the next nine years, nearly two hundred people had broken the seemingly impossible barrier because they "believed" it was possible. Read the rest of this entry »
Comments :
18 Comments »
Categories :
Barack's Mastery